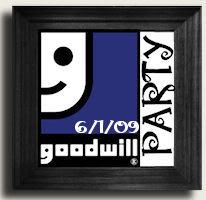 Today there is a Goodwill party at
Thrifty Decor Chick
so naturally, I am going to play along!
There is a thrift store on every block in LA. I was stunned by them all when I first moved here. There is a huge range too: trendy resale to the celebrity stylists, high priced charity resale, and down and dirty thrift. Goodwill brand is very popular. There are three just on my drive home from work. Each has it's own character, but they are all really clean and pretty well run.
Sometimes I get a bit down on Goodwill because the prices can be really high for resale, but Saturday I had a good experience.
I love dogs! Because of my allergies, I can never have a dog. Anyway, I compensate in other ways and dogs are featured in my decor both at home and at school. I had admired this sign at Anthropologie in the past.
But, since discovering thrift, Anthro is more of an inspiration place. I rarely buy things there. I don't pay full price for these kinds of things anymore.
Happily, this baby went home with me Saturday for $2.99!
I am looking forward to
checking out everyone's finds
and getting re-inspired for summer thrifting and garage sales!